We grow more than twenty seasonal varieties of salad and edible flowers. To order see here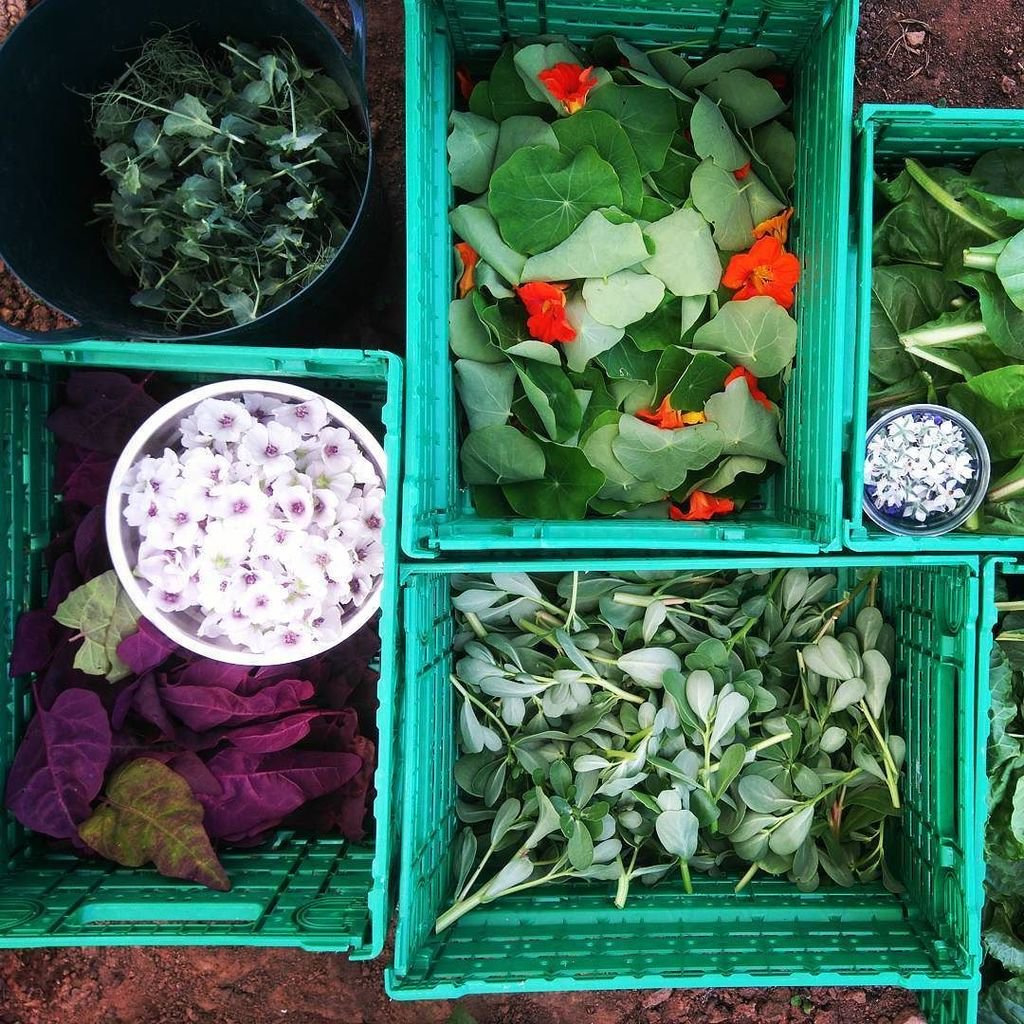 Nibley Leaves grow gorgeous mixed salad in a blend of complex seasonal flavours. We focus on mixing flavours, colours and textures to make the tastiest salad combination for each season. This usually includes 15 different varieties of leaf and edible flowers per mix. We include spicy, tangy, bitter and fresh and a range of textures and colours in every mix. Our speciality is a glorious rainbow of edible flowers every summer. We produce salad leaves from March – November and although we are not registered organic, we grow all our food to organic principles, completely pesticide-free.
We're based ten miles out of Bristol on a unique and well-loved little plot in Nibley, next to the Frome river. For four years we've supplied high-end restaurants, wholefood stores and direct customer deliveries and been rewarded with strong customer loyalty. Since the beginning, we've donated our surplus to the local food bank as part of our zero-waste plan. Since the pandemic, we've expanded our donations to include mutual aid projects in Bristol. Alongside our partner organisation, AgroEcology Lab, we are supported by The Landworkers' Alliance to develop sustainable community solutions to food poverty.
These are the elements you would be likely to find in your salad mix, month by month Often including Mustard (Allergen).
| | | | | | | | | | | | |
| --- | --- | --- | --- | --- | --- | --- | --- | --- | --- | --- | --- |
| 3 | Salad |   | MARCH | APRIL | MAY | JUNE | JULY | AUGUST | SEP | OCT | NOV |
| | | | | | | | | | | | |
| 4 | Giant mustard leaf | | y | y | y | y | | | | y | y |
| 5 | Chicory | | y | y | y | y | y | y | y | y | y |
| 6 | Land cress | | y | y | y | | | | | y | y |
| 7 | Sorrel | | y | y | y | | | y | y | y | y |
| 8 | Kailan | | y | y | y | y | | | | y | y |
| 9 | Mizuna | | y | y | y | y | y | y | | y | y |
| 10 | Rocket | | y | y | y | y | y | y | y | y | y |
| 11 | Claytonia | | y | y | y | | | | | y | y |
| 12 | Brassica flowers | | y | y | y | y | y | y | y | | |
| 13 | Golden frill | | y | y | y | y | y | | y | y | y |
| 14 | Red Mizuna | | y | y | y | y | | | | y | y |
| 15 | Borage flower | | | | y | y | y | y | y | y | |
| 16 | Beetroot leaf | | y | y | y | y | y | y | y | y | y |
| 17 | Flashy butter oak | | y | y | y | y | y | y | y | y | |
| 18 | Chard | | y | y | y | y | y | y | y | y | y |
| 19 | Cerbiatta | | | | y | y | y | y | y | y | y |
| 20 | Endive | | y | y | y | y | y | | | y | y |
| 21 | Deer tongue | | y | | y | y | y | y | y | | y |
| 22 | Nasturtium flower | | | | | y | y | y | y | y | y |
| 23 | Lollo biondi | | | | | | | | | | |
| 24 | Pea shoots | | | y | y | y | y | y | y | y | y |
| 25 | Chive flower | | | | y | y | | | | | |
| 26 | Mallow flower | | | | | | y | y | y | | |
| 27 | Orach | | | | y | y | y | y | y | | |
| 28 | Purslane | | | | | | y | y | y | y | |
| 29 | Australian yellow leaf | | | | y | y | y | y | | | |
| 30 | Calendula flower | | | | y | y | y | y | y | y | y |
| 31 | Unicum | | | y | y | y | y | y | y | y | y |
| 32 | Cocarde | | | | y | y | y | y | y | | |
| 33 | Erba stella | | | | y | | y | y | y | y | y |
| 34 | Jack Ice | | y | y | y | | | | | y | y |
| 35 | Nasturtium leaf | | | | | y | y | y | y | | |
| 36 | Black seeded simpson | | y | y | y | | | | | y | y |
| 37 | Mibuna | | | | | | | | | | |
| 38 | Lolla rossa | | | | | | | y | | | |
| 39 | Green in the snow | | | y | | | | | | | |
| 40 | Violet flower | | y | y | y | y | y | y | y | | |
| 41 | Devil tongue | | | | | | | | y | | |
| 42 | Salad bowl | | | | | | | | | | |